Gut Rehab Formula
Probiotics: Reimagined
Gut Rehab Formula is a game-changing blend of 12 potent probiotic strains. A total of 55 Billion CFUs of "good bacteria." This remarkable remedy helps smooth digestion, enhance immunity, and improve mental health. Which contribute to more energy, clearer skin, and better wellbeing. Complete with the Gut Rehab Guide - a unique 12-week plan to supercharge these incredible benefits. So you can feel - and look - your best.
Restore healthy digestion and "kickstart" metabolism
Relieve GI symptom
Enjoy "bulletproof" immunity
Reduce anxiety, boost mood, and sharpen brain function
An Amazing Digestion Defender
Relieves Digestive Discomfort
Stop stomach issues and feel newly revitalised
Supports Better Mental Health
Say goodbye to stress and see improvements to mood, memory, and focus
Ultra High-Quality, "Broad Spectrum" Strains
Zero fillers, binders, or additives. Diverse, temperature-resistant strains locked inside acid-proof capsules
Made For [Almost] Everyone
Vegetarian, Halal, and Kosher certified. Manufactured in line with GMP standards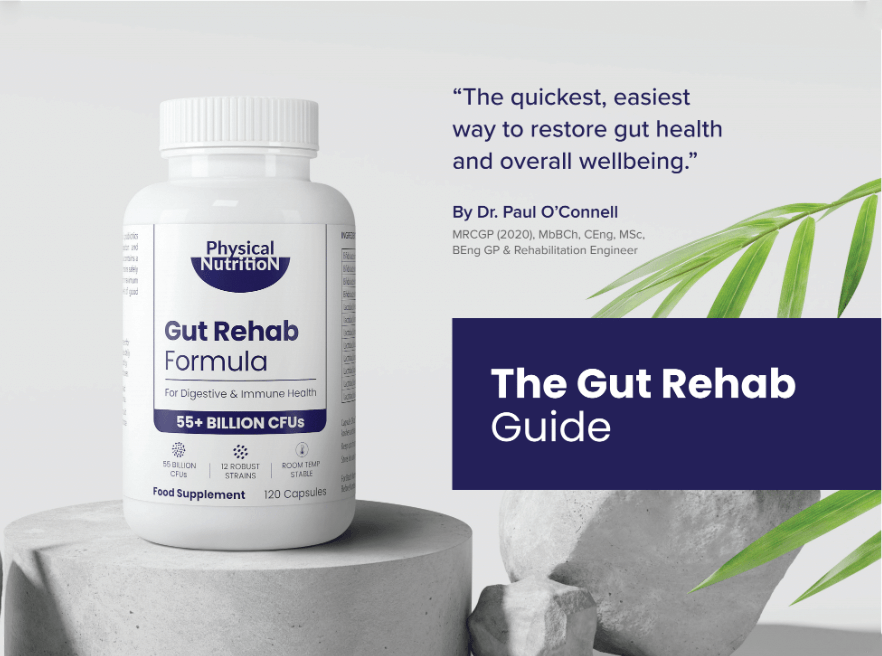 Plus, Free With Your Order Today…
The Gut Rehab Guide (Worth £34.99!)
A comprehensive, 12-week guide to your first 3 months with this incredible formula.
With tips, tricks, and expert advice you won't find anywhere else. As well as recipes, "food swaps"…
And other simple ways to quickly maximise the benefits you feel from Gut Rehab Formula
Ingredient Highlights
The 12 Unique Strains Inside Gut Rehab Formula

Digestion Defender Bifidobacterium Lactis
Clinically proven to rebalance your gut microbiome. Helps promote weight loss, and prevent obesity.

Detox Microbe Bifidobacterium Breve
Studies have shown Bifidobacterium breve could slash your risk of cognitive disease - like Alzheimer's. With antidepressant and anti-inflammatory effects

Brain Food Lactobacillus Bulgaricus
Can reduce symptoms of mental health problems like anxiety and depression. As well as improving your memory.

Skin Soother Lactobacillus Casei
For fighting off pathogens. Also strengthens skin barrier function, for keeping harmful toxins out.

BCLM 9
Bifidobacterium longum
Helps reduce symptoms of depression in people with GI disorders.
BBM 3
Bifidobacterium bifidum
Works to prevent chronic disease, terminal illness, and organ problems.
LAM 3
Lactobacillus acidophilus
For repairing "leaky gut," and symptoms including diarrhoea and constipation. Also proven to promote weight loss, improve heart health, and enhance liver function.
LBM 36
Lactobacillus brevis
This plant-based "wonder-strain" enhances brainpower and boosts immunity. And makes "natural killer" cells in adults. Which fight pathogens and help prevent cancer.
LPCM 15
Lactobacillus paracasei
Improves emotional wellbeing and social function. And has antidepressant-like properties.
LPM 27
Lactobacillus plantarum
Supports healthy cholesterol levels, smooth digestion, and fortifies the gut wall.
LRM 6
Lactobacillus rhamnosus
Proven to support healthy weight management and "melt away" excess body fat.
LSM 18
Lactobacillus salivarius
Clinically shown to reduce gas, stop inflammation, and "reverse" symptoms of skin problems.

Guarantee
Every order you make is backed by our "Peace of Mind Promise". This allows you a full 3 months to feel the power of this remarkable formula.
If you don't feel noticeable improvements to your digestion, mood, immune health, and skin? We'll refund your full purchase price - no questions asked.
We made this product to be the ultimate probiotic. And if you feel anything less than delighted after using it, we don't want you to pay a single penny.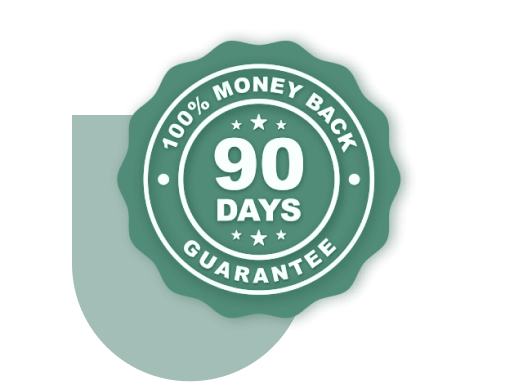 FAQs
We recommend you take 1 capsule twice daily for the first month, before reducing consumption to once daily for the following two months.
Consult the Gut Rehab Guide for more details.

We always recommend consulting with your doctor before adding any new supplements to your health regime.

Here at Physical Nutrition, we put quality above all else. So we make sure all of our products are rigorously tested for purity, potency, and freshness.

Everyone's body is different, so individual results will vary. Fortunately, the powerful bacteria in Gut Rehab Formula are proven to rebalance gut bacteria in just days. That said, we suggest you let them work for 3-4 weeks to experience the biggest benefits from this incredible product.

Physical Nutrition products - including Gut Rehab Formula - are not sold anywhere else. Whether that's in shops or online.
Customer Reviews
01/02/2023
Only been on the formula for a couple of weeks,, so a bit early to tell. Feeling more with it generally. Output looking a lot healthier - tmi!
20/01/2023
I have only been taking the capsules for 2 weeks but I do think they are making a difference already , I would be happy to do another review a few weeks later
19/01/2023
For the short time that I have been taking this tablet the BIG thing I have noticed is that for the first time in years, I am using the loo daily.
19/01/2023
Hi there. Due to mail strikes in my area I have only been using the capsules for nine days but I am feeling more comfortable and more energetic So I will be continuing with this course. Earlier in the year I contacted food poisoning from beef in a restaurant and never felt really well after but now I am beginning to feel much better and hopefully will improve even more. (Watch this space). Marl.
19/01/2023
Just a couple of weeks in but going well to date